What your Potential Clients are Looking for in an Online Marketing Solutions Company
Digital marketing is on the rise, more than ever. Because of its evident benefits to brands, more and more businesses are integrating digital marketing into their mix in order to get and retain new clients, as well as grow their businesses.
You yourself have decided to hop in the online marketing train because you've witnessed the growing demand and believe that you have what it takes to succeed in this complex and dynamic industry. However, you did realize that the things you need to accomplish to really jumpstart your own online marketing company can be overwhelming—it requires a lot of time, effort and expertise that your agency cannot get without spending a lot of money.
This is where white label online marketing companies, like ourselves, come in.
White label online marketing outsource companies can help you kick off your business immediately by providing specific digital marketing services for your company—services that can be branded as your own—at a much affordable price. Simply put, you can outsource to these agencies to do the job for you while you own your actual clients.
As the demand for digital marketing continues to grow, so is the demand for white label online marketing companies. These days, the average digital marketing company has several needs with regard to their digital marketing efforts. They need web designers, content writers, social media and PPC specialists, search engine optimization experts, and campaign managers. To avoid the extra cost of hiring additional employees, most digital marketing firms would turn to white label online marketing companies to do a portion, or the complete set of online marketing services for them.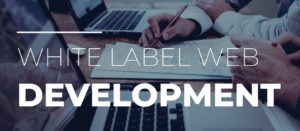 Because of the growing demand for private label agencies, competition among white label online marketing companies becomes tough. As a marketer, you need to remember that all of these companies may offer the services you're looking for but only a few would actually take the time to understand your own and your clients' needs better and act on it—that's why it's best that you analyze carefully which one perfectly fits your needs and business goals.
To Find the Right Outsource Partner for You, You Need to Understand First the Needs of Your Potential Clients.
What are your potential clients looking for in a digital marketing services provider? Whether you're a newbie whose currently looking for a digital marketing outsource partner or an established company thinking of switching to a new partner, it is worthwhile to check out this quick guide on choosing the right digital marketing partner for your business based on your potential clients' needs.
Your potential clients are looking for a partner that offers a competitive pricing in the industry.
In a study conducted by G/O Digital and Entrepreneur, it was found that price is the most important factor that businesses consider when evaluating the digital marketing services or products of a vendor. [See Figure 1]
Because most of your end clients are on the lookout for cheaper pricing for their digital marketing, it's best that you give them what they're looking for, while keeping in mind that you also need to make a profit for your agency. How can you do this? To cater to their pricing needs, you need to hire a private label digital marketing agency that offers the most competitive pricing in the industry.
We can help you with that. Here at Endlessrise, we offer and deliver services to our partners and their end clients quickly and effectively, setting the price based on what their competition is charging. We allow them to mark up our prices, making sure that they gain recurring profits from our quality services.
Your potential clients are looking for a partner that possesses a clear understanding of their needs and goals.
G/O Digital and Entrepreneur's study also ranked a company's ability to understand end clients' needs and goals as one of the most important factors businesses look for in a digital marketing services provider. Thus, as a digital marketing company, it's essential that you possess this quality through your private label partner.
We understand that you don't want a partner that will just nod yes at all recommendations given to them. What you need are proficient consultants with an objective perspective on establishing your and your clients' business and online presence.
We take pride in offering expert consultation with our partners to help us better understand their own and their end clients' specific needs and goals. The intake forms and launch forms available in the white label dashboard system we provide help a lot in the consultation process. Apart from listening to their problems and suggestions, we bring forth innovative ideas that will guide them in meeting their objectives, based on the information at hand.
By partnering with us and adapting this process, you'll also be able to provide your own clients with the right solution for their business needs.
Your potential clients are looking for a partner that is good at delivering on commitments within agreed-upon timeframes.
A total of 32% of the survey respondents all agree that they want a company that can deliver on commitments within agreed-upon timeframes. With this, your partner agency should possess a good and solid performance reputation so that your own company can successfully cater to end clients with excellent time delivery performance.
Our partners know that we finish campaign deliverables on time. And they know how committed we are in helping them achieve their target. Check out these testimonials from our clients and see how we can help you and your campaigns rise to higher levels of success through cutting-edge technologies and superior service delivery.
Your potential clients are looking for a partner that can provide them with consistent post-sales support.
A significant number of businesses believe that having an effective post-sales support is crucial when choosing the right digital marketing services provider for their companies. If you're looking to get a thumbs up from these businesses, you'd better hope your partner provides you with a good level of communication with regard to the day-to-day management of your own and your clients' campaigns.
One of the characteristics of a good partner is its ability to provide you with regular performance indicators and in-depth analysis report on your activities to let you know what you and your clients are getting for your money. At Endlessrise, we have various levels of post-sales support ready to address any concerns and to ensure your campaigns with us are in tip-top shape. We understand that not all businesses have lavish amounts of money to spend on digital marketing outsourcing, that's why we make it a point to provide our partners and their end clients with actual data and indication of positive campaign results, as well as return on investment.
Your potential clients are looking for a partner that possesses great leadership in digital marketing concepts.
Superior insight and leadership in digital marketing is one of the most important traits businesses are looking for in an outsource partner, according to G/O Digital and Entrepreneur's study. For you to effectively build and maintain a credible reputation in terms of online marketing strategy and services among prospective clients, you need to be with an agency that has done the same for itself. In fact, they have to be digital marketing mavens, consistently trying out new ways to provide concrete solutions to the branding and online presence needs of digital marketing companies and its clients.
We at Endlessrise are at the forefront of digital marketing innovation. Our partners know this as they get insights and updates through the VIP bi-weekly webinars where they also get to share their own experience and insights. This serves mainly as an educational forum, allowing us to better understand the needs of our partners, resulting to us developing new technologies that can benefit our partners and their end clients.
With our dashboard technology and more than 300 professionals ready to work on your campaigns in the background, you'll be able to manage your clients and projects seamlessly. We have readily available marketing materials that you can use to engage prospects, as well as exciting promos and offers to help you jumpstart your campaigns and display your excellent digital marketing awareness. Our Brand Optimization Platform and other online marketing services will help you attract new clients and race ahead of your competition.
We are committed to helping your marketing company grow. By partnering with us and signing up for our Pro Membership program, you'll gain access to these technologies and tools specifically designed to help you strengthen your brand, attract prospective clients, and retain the present ones.